When COVID-19 hit America, we — along with the whole world — changed as we once knew it. While we keep hearing there is a "new normal" to contend with, and we're now adjusting to changes in our routines, there have been some necessary changes in the wine industry that are not only helpful for staying healthy, but may be here to stay.
Before the pandemic began in March of 2020, wine enthusiasts eager to get to their favorite local wineries merely had to jump in their vehicle, head to their chosen winery, walk in, and order! Wine tasting was as simple as standing at the bar, sipping and sampling, and enjoying the day without a thought that any of it could change.
But, things did change. And now that wineries are finally getting the green light to re-open, the changes are unique — but not necessarily in a negative way. Here are some of the differences you'll see next time you take a wine tour or a wine tasting.
Reservations – This may be the biggest change to affect the entire wine community. With the amount of guests limited to the inside (if any at all) and most only outside, reservations have replaced walk-ins. Some wineries will go back to walk-ins when they are allowed to reopen their interiors, but many wineries are saying they prefer reservations as it gives a much more controlled atmosphere where safety, alongside beautiful wine tasting, blend perfectly. Guests are loving the fact that they know they have a guaranteed seat and personalized service.
Mask-Wearing – This is obviously an interesting change, particularly when it comes to establishments that offer food and drink. While you have to wear the mask upon entering, of course, the mask can come off while you drink, eat, and enjoy the scenery. When it comes to the safety of you and those around you, wearing a mask — as inconvenient as it can be — is a smart way to keep every winery (and yourself!) safe.
Social Distancing – Large groups of people were normal in wineries of the past. Now, small groups are preferable, if not mandated. Before you visit your favorite winery, be sure to check the newest guidelines regarding social distancing. Some wine tasting patrons may view this as a hindrance — making the experience less personal — while most others may feel this keeps the true wine connoisseurs out and about. Keeping distance between each other is necessary but it sure doesn't take away from the gorgeous taste of wine.
Individual tastings vs Wine flights – Where the wine connoisseur once could come in and taste this or that, sending the servers back and forth repeatedly, now some wineries are offering an entire flight of wines … sometimes even before the guests have sat down. The server explains the flight and allows you more time comparing and contrasting the flight of wines before you, allowing you to pick and choose what you truly like. For a girls' night out, this makes having fun even easier. Sit together, sip together, and have fun!
Outdoors vs Indoors – This is the most volatile of changes and one that will shift as the restrictions come and go. While indoor seating (at some wineries) may be available, this means only outside tasting (or touring) is available. Of course, many wineries realize this cuts patrons from filling up the inside of their winery, but it also brings each winery down to a more personal, private level. And who doesn't want that while they're wine tasting?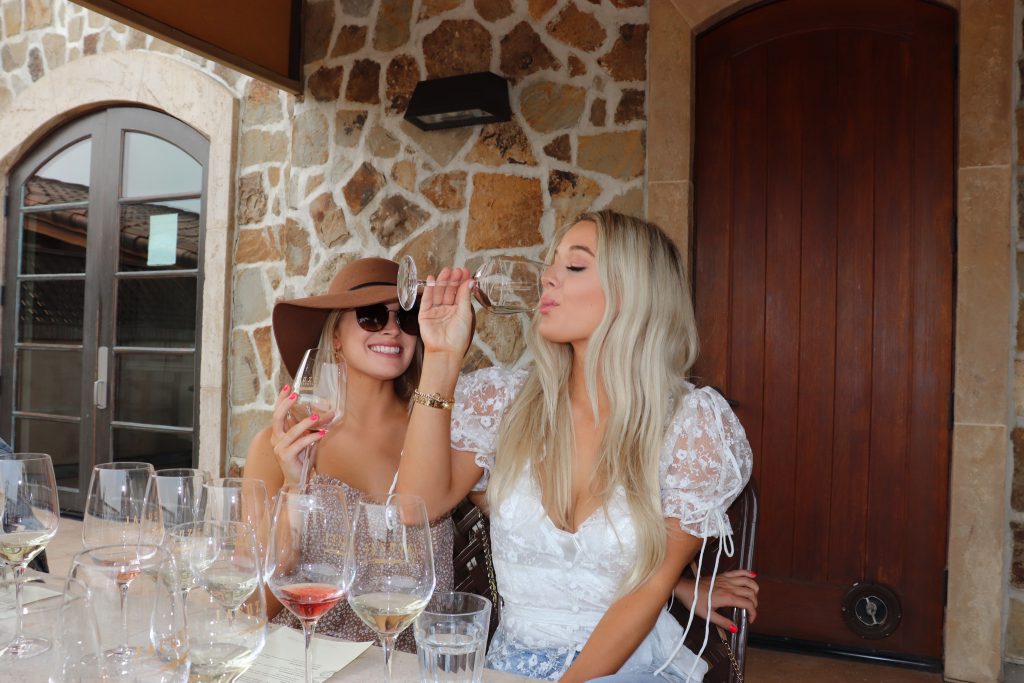 If privacy and smaller groups are your thing, today's wine tasting during COVID-19 restrictions are perfect for you. All in One Limousine has safety measures in place for keeping their limo service clean and safe for everyone who books a wine tasting tour. Things have never been safer or cleaner and with online or phone reservations just a click or call away, there's no reason not to get out of the house and into a Napa Valley or Sonoma winery. With good wines, and a few good friends or family, it's all you need to feel normal once again.
Call or Text Cindy Patterson, The Owner, at All In One Limousine to book your wine tasting day trip! 925-513-4175
Or, send an email! ~ Cindy